CR6267 High Precision CC/CV PSR PWM Switch

CR6267 FEATURES
 Standby power less than 75mW
 Primary-side Sensing and Regulation
Without TL431 and Opto-coupler
 High precision constant voltage and
current regulation at Universal AC input
 Programmable CV and CC Regulation
 Multi-mode PWM/PFM operation for
CR6267efficiency improving
 Audio noise free operation
 Programmable Cable Drop
CR6267 Compensation
 Built-in line voltage and primary winding
 No need for control loop compensation
 Built-in CS Open Protection
 VDD Over Voltage Protection and
CR6267 Clamp Protection
 Built-in Short Circuit Protection
 Built-in Leading Edge Blanking (LEB)
 Over temperature protection(OTP)
 Cycle-by-Cycle Current Limiting
 VDD Under Voltage Lockout with
APPLICATIONS
 Switching AC/DC Small Power Adaptor
 Digital Cameras Charger
 Auxiliary Power for PC, TV etc
 Linear Regulator/RCC Replacement
GENERAL DESCRIPTION
CR6267 is a high performance offline PSR controller for low power AC/DC charger and
adapter applications, Less than 75mW standby power consumption with typical application. It
operates in primary-side sensing and regulation,so opto-coupler and TL431 could be eliminated.
In CC control, the current and output power setting can be adjusted externally by the sense resistor
R S at CS pin. In CV control, PFM operations are utilized to achieve high performance and high
efficiency. In addition, good load regulation is achieved by the built-in cable drop compensation.
CR6267 offers comprehensive protection coverage with auto-recovery features including
Cycle-by-Cycle current limiting, VDD over voltage protection and clamp protection, CS open
protection, short circuit protection, built-in leading edge blanking, VDD under voltage lockout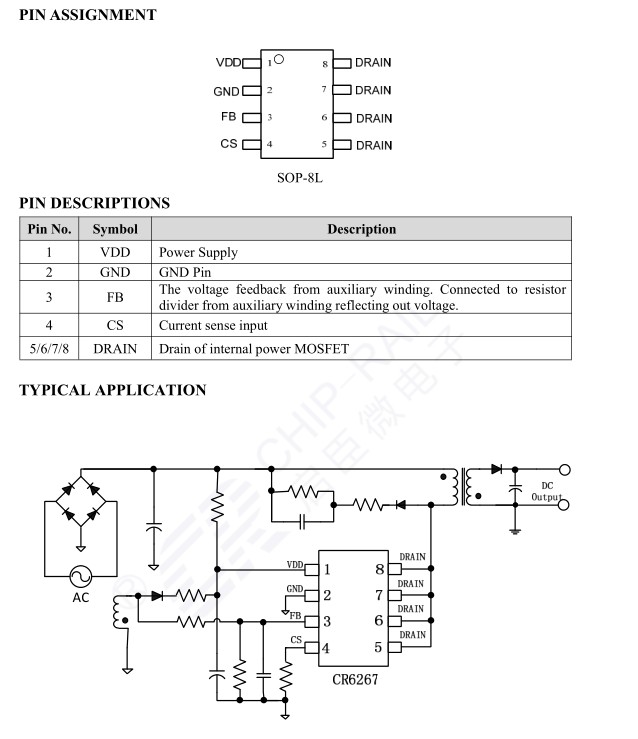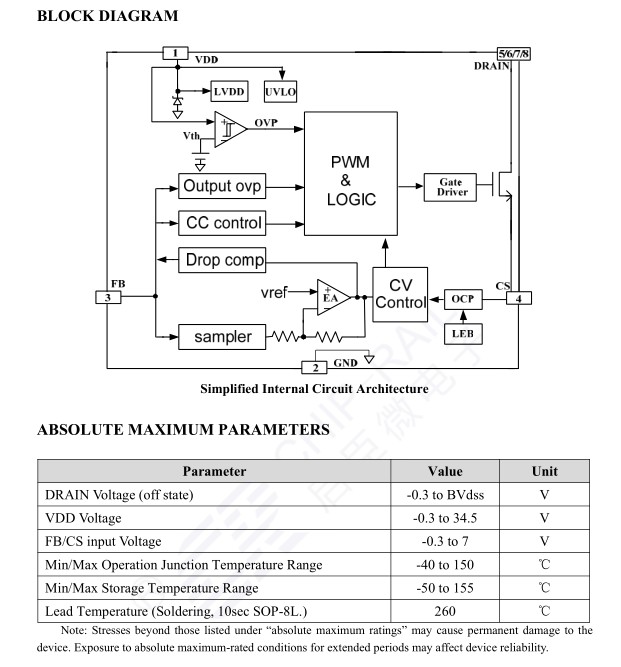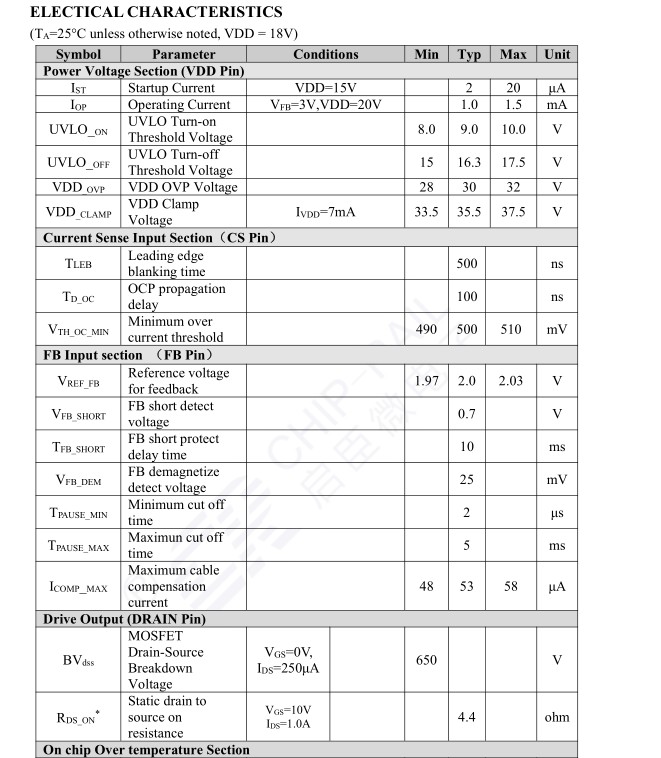 CR6267
OPERATION DESCRIPTION