audio noise is eliminated during operation. CR5216 is offered in DIP-8L package.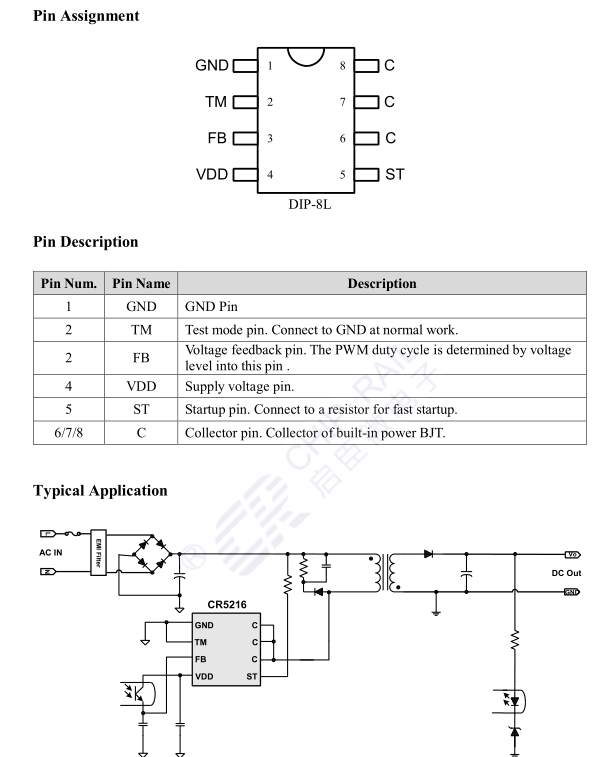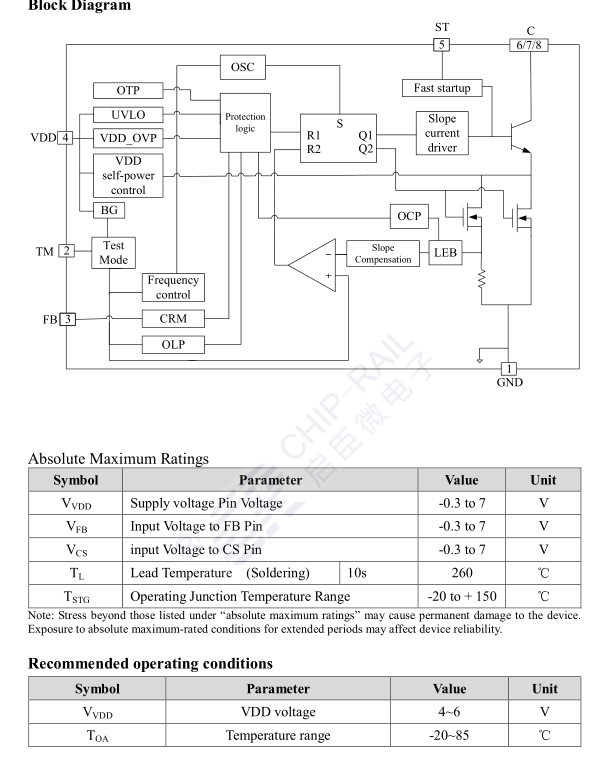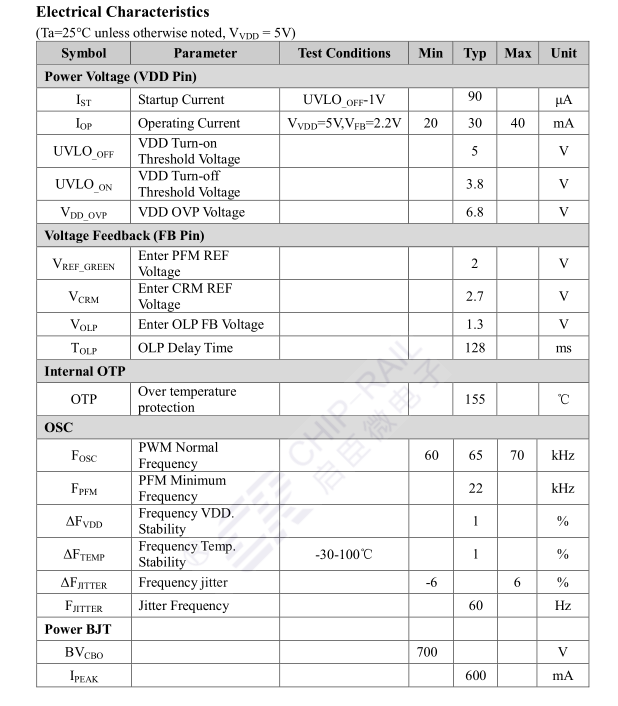 CR5216Operation Description
CR5216 is a highly integrated low cost current mode PWM controller.CR5216 integrates
power BJT and adapts the VDD self- power technology, which can omit the auxiliary winding and
reduce the system cost. The IC changes the operating frequency and automatically enters the PFM
and CRM(Cycle Reset Mode) under light load or no load conditions. CR5216 offers complete
protection coverage including OCP,OLP,OTP, OVP and VDD under voltage lockout (UVLO).
Excellent EMI performance is achieved with proprietary frequency shuffling technique. The
minimum frequency is 22kHz in the design and audio noise is eliminated during operation.
Fast Startup
The ST pin is connected with a starting resistor, starting current flows into the base of built-in
power BJT, charging the VDD capacitor after amplification, when the VDD voltage reaches
UVLO _OFF , the IC starts to work. Because the startup current has been amplified by built-in power
BJT, so we can use large startup resistor, which can reduce the standby power consumption of the
system. the VDD capacitor is charged by inner self-power circuit after normal work.
The IC integrates self-power circuit, the VDD voltage will be regulated at 5V by adjusting the
charging time of VDD capacitor, so we can omit the traditional auxiliary winding, which results in
CR5216Green Power Operation
The power dissipation of switching mode power supply is very important in zero load and
light load condition. The major dissipation results from conduction loss、switching loss and
consume of the control circuit. However, all of them are related to the switching frequency. There
are many difference topologies has been implemented in different chip. The basic operation theory
of all these approaches intends to reduce the switching frequency under light-load or no-load
CR5216's green power function adapts PWM and PFM combining modulation. The PWM
frequency is fixed at 65kHz in medium and full load operation. Through modifying the pulse
width, the CR5216 could control output voltage. The voltage of FB pin increases when the load is
in light condition and the internal mode controller enters PFM when the feedback voltage is higher
than V REF_GREEN . the operation frequency of oscillator begin to decrease gradually. The minimum
frequency of oscillator is 22kHz. When the FB voltage continues to increase, the internal mode
controller enters the CRM, which further reduces standby power consumption.