启达启臣微CR5213/C/D/E High PrecisionCC/CVPSR QR PWM Swi
CR5213FEATURES
 ±4% CC and ±5% CV Precision
 Primary-side Sensing and Regulation
CR5213Without TL431 and Opto-coupler
 Programmable CV and CC Regulation
 Quasi-Resonant Primary Side Regulation
(QR-PSR) Control with High Efficiency
 Built-in Primary winding inductance
CR5213compensation
 Programmable Cable Drop
CR5213Compensation
 Built-in Feedback Loop Open Protection
 VDD Over Voltage Protection
 Built-in Output Short Circuit Protection
 Built-in Leading Edge Blanking (LEB)
 Over temperature protection(OTP)
 Cycle-by-Cycle Current Limiting
 VDD Under Voltage Lockout with
CR5213Hysteresis (UVLO)
CR5213Applications
 Switching AC/DC Small Power Adaptor
 Cell Phone or Digital Cameras Charger
 Auxiliary Power for PC, TV etc
 Linear Regulator/RCC Replacement
CR5213General Description
CR5213/C/D/E is a high performance offline PSR controller for low power AC/DC charger and
adapter applications. It operates in primary-side sensing and regulation, so opto-coupler and
TL431 could be eliminated. In CC control, the current and output power setting can be adjusted
externally by the sense resistor R S at CS pin. In CV control, PFM operations are utilized to
achieve high performance and high efficiency. In addition, good load regulation is achieved by the
built-in cable drop compensation.
The chip consumes very low operation current, it can achieve less than 30mW standby power to
meet strict standby power standard. CR5213/C/D/E offers comprehensive protection coverage
with auto-recovery features including Cycle-by-Cycle current limiting, VDD over voltage
protection, feedback loop open protection, CS open protection, Output short circuit protection,
built-in leading edge blanking, VDD under voltage lockout (UVLO), Over temperature protection ,
etc. CR5213/C/D/E is offered in SOP-7L package.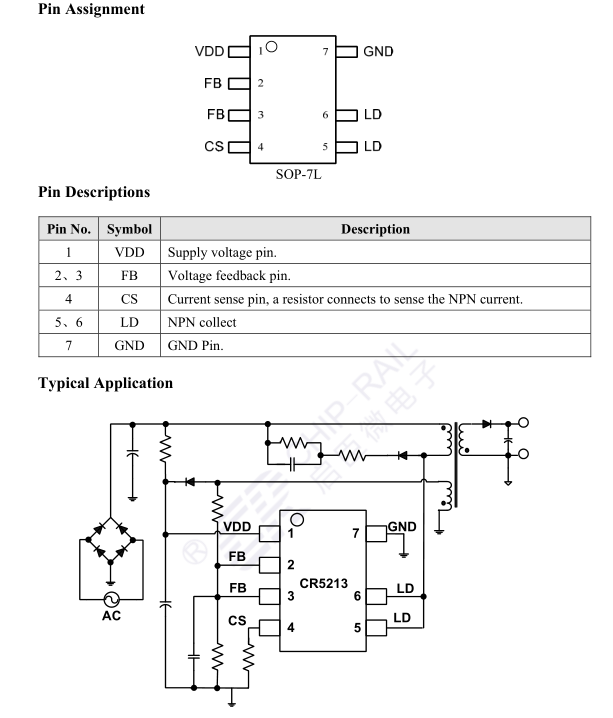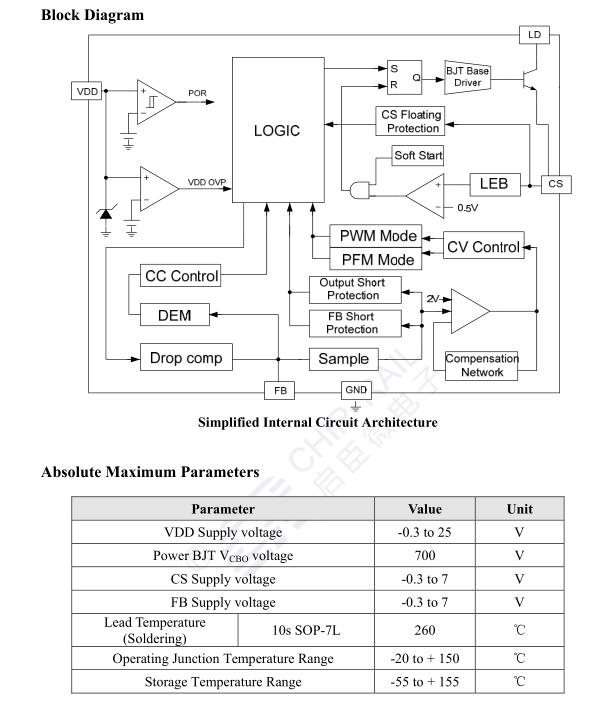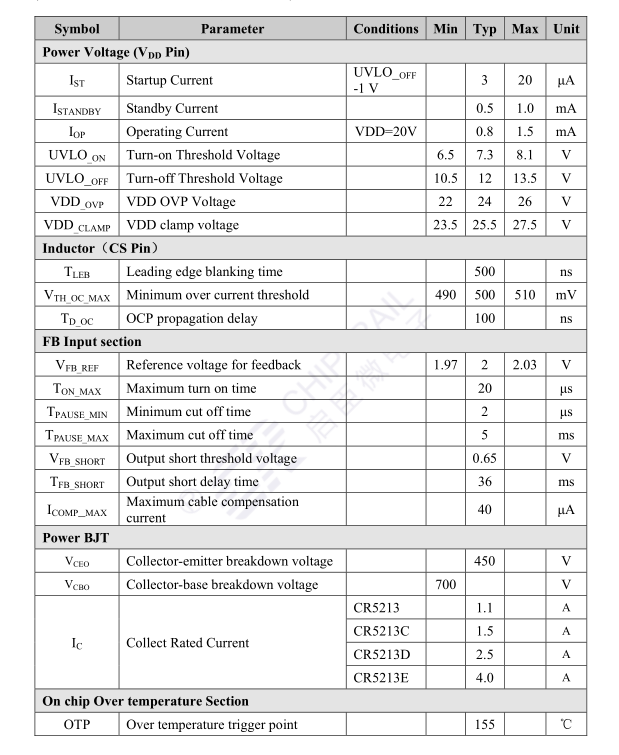 CR5213OPERATION DESCRIPTION
CR5213/C/D/E is a high performance offline PSR controller for low power AC/DC charger
and adapter applications. It operates in primary-side sensing and regulation, So opto-coupler and
TL431 could be eliminated. In CC control, the current and output power setting can be adjusted
externally by the sense resistor R S at CS pin. In CV control, PFM operations are utilized to
achieve high performance and high efficiency. In addition, good load regulation is achieved by the
built-in cable drop compensation.
Startup and Under Voltage Lockout
Startup current of CR5213/C/D/E is designed to be very low so that VDD could be charged
up above UVLO threshold and starts up quickly. A large value startup resistor can therefore be
used to minimize the power loss in application.
CR5213CC/CV Operation
CR5213/C/D/E is designed to produce good CC/CV control. In charger applications, a
discharged battery charging starts in the CC portion of the curve until it is nearly full charged and
smoothly switches to operate in CV portion of the curve. The CC portion provides output current
limiting. In CV operation, the output voltage is regulated through the primary side control. In CC
operation mode, CR5213/C/D/E will regulate the output current constant regardless of the output
CR5213Principle of Operation
To support CR5213/C/D/E CC/CV control, system needs to be designed in DCM mode for
flyback system. In the DCM flyback converter, the output voltage can be sensed via the auxiliary
winding. During NPN turn-on time, the load current is supplied from the output filter capacitor.
The current in the primary winding ramps up. When NPN turns off, the energy stored in the
primary winding is transferred to the secondary side. The current in the secondary winding is